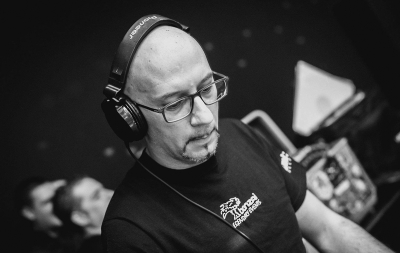 Pays: Italie
Dj et producteur depuis 15 ans, X-Fly à vu ses productions sortir sur les labels réferents du hardcore: D-Boy, Mokum, Headfuck, Psychik Genocide, Arena, R-909, Abralcore, Noistorm, Audiokore, GGM, etc...
Fan de techno/hardcore depuis 1992, il se met aux djaying et à la production en 1998. Influencé par des artistes tels que Radium, Al Core et Micropoint, il devient le premier artiste italien à produire du hardcore frenchcore/industriel, en signant sur le label Head Fuck Records en 2001 sous le nom Master Mind.
En 2005, il signe sur Audiogenic et sort deux vinyles : Chart to Chart et Tormented by kill (en collaboration avec Frazzbass). C'est le début de nombreuse collaborations avec de nombreux artistes du label: Goetia, Venom, Pattern J, Liquid Blasted, D.O.M., Psiko, Skoza, The Destroyer et The Sickest Squad.
En 2007 il devient propriétaire du label Head Fuck Records qui officie dans le hardcore depuis 1997. Il faudra attendre 2012 et la sortie de Voodoo Classic EP sur le label Psychik Genocide pour retrouver X-Fly à la production. Parallelement il n'a jamais cessé de se produire lors de nombreux evenements en Europe (Hollande, Russie, Suisse, Espagne, Belgique, Allemagne et Italie).
Récemment il a travailler sur un ep de remix de The Sickest Squad: "Opera Prima Remixes" sortie sur PKGRX, où il partge le tracklisting avec Sirio et Lowroller.