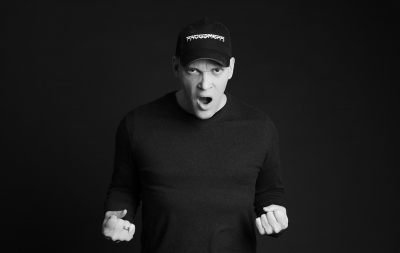 Le duo incontournable de la scène Hardcore parisienne, Progamers, est né en 2005 de la collaboration des compositeurs et amis d'enfance, RbMz et Skoza.
C'est en 2007, avec leur premier album "Game After Game », qui sort au sein du label Audiogenic, maison mère du Frenchcore, que le duo explose et se hisse au rang des groupes à succès du Frenchcore. Pas moins de deux années plus tard, ils reviennent avec un nouvel album « Final Stage » orienté industriel Frenchcore à base de BPM progressif, le tout enrichie de plusieurs collaborations dont le MC Loki Lonestar.
Leur succès, leur vaut très vite d'écumer les plus belles salles et festivals européens aux côtés de grands noms du milieu. Véritable duo scénique, leurs shows futuristes et cybernétiques détournent l'univers du gaming pour en faire des scénographies musicales magiques, rapprochant ainsi leur passion du hardcore et des mondes virtuels.
Leur marque de fabrique : des lives sets énergiques, mélangés à des visuels vidéos envoutants qu'ils partagent lors de performances éblouissantes et intenses à des festivals légendaires tels que Master of Hardcore, Defqon, Harmony of Hardcore ou encore Q-base.
2011 marquera un tournant dans la carrière de ces diamants bruts avec leur dernier album en duo, « Reloaded », avant de laisser Skoza continuer seul l'aventure Progamers. Cet opus marquera la maturité et l'originalité des deux amis, mélangeant ambiances ténébreuses et rythmiques furieuses !
Après plusieurs années, Skoza de Progamers ouvre donc un nouveau chapitre en 2020 avec une dizaine de tracks à tendance plus ethnique et acidulés de vocaux féminins sans jamais perdre les kicks dynamiques et dansant faisant l'identité de Progamers. Un pari gagné qui séduit encore une fois l'ensemble du public. On ne l'arrête plus !
Enfin, 2021 se veut elle aussi une nouvelle année pleine de projets et collaborations sur différents labels pour Progamers en commençant par un tout nouvel EP sorti sur le label Audiogenic : une pépite aussi envoutante que dévastatrice ! De retour et plus en forme que jamais, cet artiste n'a pas fini de nous impressionner et ce, pour notre plus grand bonheur !